How to Release the Redundant Brake Oil from the Caliper Bleed Nipples?
Please be sure the air in the brake fluid of caliper has been absolutely exhaused. Then, fix the bleed nipples first before doing the step below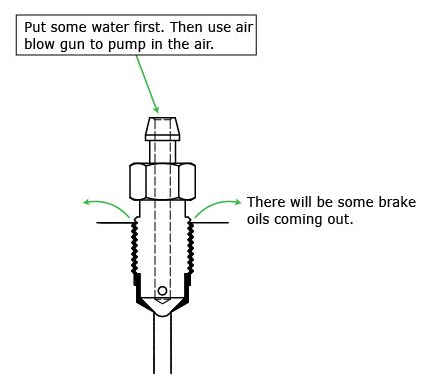 Please follow the instruction back and forth at least three times to make sure there is no more brake oils coming out.
Related Articles

Caliper Mounting Bracket Won't Match

Due to the fact that the location points on the OE caliper mounting bracket have tolerance, check whether the brake disc is centered in the caliper pathway. If not, realign the brake caliper and the brake disc to the optimum position by putting the ...

Brake Systems - Frequently Asked Questions

Do new discs and pads need to be bedded in? Yes, for best performance you should carry out the bedding process. After installation of your Ksport brake system it is highly recommended to follow this procedure: The brakes should feel smooth without ...

Do The Big Brake Kits Work With OEM Handbrake?

Most of our big brake kits for the rear do not support compatibility with OEM handbrakes. But at times. there are some kits that work. Generally, we put a note on the product listing fitment section that says "WILL WORK with OEM handbrake". ...

Brake Noise

Some brake noise is common with big brake kits. The noise is caused by the pad and rotor material and does not signify any defects. Most aftermarket big brake kits do make some noise intermittently until they are warmed up.

Brake Line Installation

Any ABS or brake lines should be fixed onto rubbers supplied in the tool bag first, then attach the rubbers to the supplied brake line brackets (two types of brackets). The brake line brackets will then attach to the coilover; The position of the ...